What Type of Hull Should I be Looking For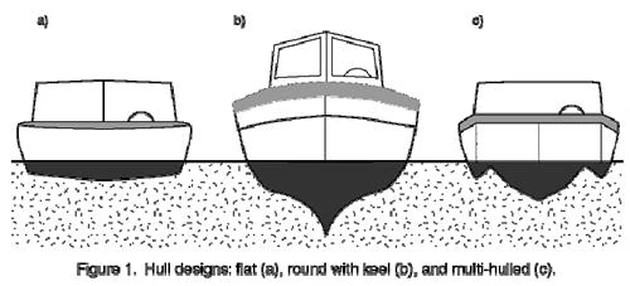 There are many hull designs to consider when purchasing a boat. Let's take a look at three of the most common hull designs all of which are considered planing hulls. Planing Hulls at higher speeds will begin to level off on top of the water and make less waves and friction.
FLAT-BOTTOM HULLS Figure 1 a)
Many planing hulls are variations of the flat bottom hull and have the following characteristics:
Good load carrying
Inexpensive to construct
Below average in holding a courser at low speeds and tend to slide or drift
Produce a much rougher ride in waves
VEE-BOTTOM HULLS Figure 1 b)
The VEE-shaped hull, although a flat-bottom hull, has a pronounced Vee-shape to its bow where it cuts the water. Characteristics include:
Good ability to hold steered direction at speed
Deep Vees perform better in rough water
Deep Vees also tend to roll at rest
CATHEDRAL HULLS Figure 1 c)
Sometimes called the Dual Vee or Tri Vee hull due to its prominent fore design turns into a flat hull aft and perform well with these characteristics.
Greater Stability
Good Tracking at low speeds
Good load carrying capacity
Tend toward lower freeboard heights
Uncomfortable at speed in rough water