Boat Ramp Etiquette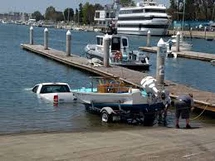 We are getting close to Boating Season in Connecticut and let's remember to play nice at the boat ramps. Boat Ramp traffic jams can be prevented if everyone practices common courtesy at the ramp. Be sure you observe these simple courtesies
Prepare your vessel for launching and for the drive home well away from the ramp. You can also do quite a bit of prelaunching preparation at home.
Have the two most experienced people in charge of launching and retrieving the boat
NEVER block a ramp with an unattended vehicle or vessel move both of them away from the launching area immediately after you put the boat in the water. Come back to pick up the driverif the ramp does not have a dock or slips for you to wait.
When retrieving, do not pull your vessel into a launch lane until the towing vehicle is at the ramp and ready to go. The line is formed by vehicles with trailers and not vessels in the water. Drop off the vehicle driver and wait offshore clearing the ramp for others who are ready.
Have a great season boaters!